The founder of Makkal Needhi Maiyam (MNM), Kamal Haasan, has consented to go with Congressman Rahul Gandhi on his Bharat Yatra and to give a speech at a Bharat Yatra event hosted in the Red Fort in New Delhi. This is a big move. This decision is seen as a strong indication that MNM may join the DMK-led secular progressive coalition in Tamil Nadu for the upcoming 2024 Lok Sabha elections.
More About Kamal Haasan
The MNM staff is ecstatic that Kamal Haasan has joined them! His presence has given the gathering a fresh jolt of enthusiasm. And guess what else? Recent occurrences have shown that Kamal Haasan's love for Congress and MNM's political philosophies are entirely congruent.
It's as though they're on the same frequency! This has everyone hoping that maybe, just maybe, they'll form a coalition in 2024. Everything seemed to be going swimmingly!
"Moreover, our leader has demonstrated his commitment to fully investing in politics. After the electoral defeat in the 2021 assembly elections, there was a perception that he might withdraw from politics. However, Kamal Haasan's involvement in the Bharat Yatra indicates his seriousness about the 2024 Lok Sabha elections and beyond. Almost 300 MNM cadres participated in the journey, and their enthusiasm is evident," said a party leader.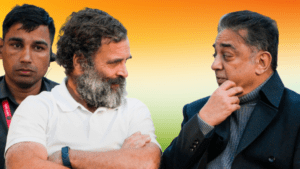 Recently, Kamal Haasan held discussions with second-line officials of the party to strategize and revitalize the party. Decisions were taken, including organizing significant public programs every month until the Lok Sabha elections.
His participation in the Yatra also suggests that, unlike the 2021 assembly elections, there is unlikely to be multiple competing alliances in the 2024 Lok Sabha elections in Tamil Nadu, where MNM, Naam Tamilar Katchi (NTK), Amma Makkal Munnetra Kazhagam (AMMK), Dravida Munnetra Kazhagam (DMK), and All India Anna Dravida Munnetra Kazhagam (AIADMK) were contesting against each other.
Post the meeting, a decision will be made in January next year during the party's general assembly on whether MNM will contest alone or be part of an alliance for the 2024 Lok Sabha elections.
NTK's treasurer R. Raveendran stated that the party believes that contesting alone is the only way to achieve its political objectives in Tamil Nadu. He said, "We are confident that we will contest alone. We are against Congress and BJP. We cannot have an alliance with the Dravidian parties. Therefore, there is no question of being part of a coalition for some seats. Our leaders will provide clarity in the general assembly, which will be held sometime in January after Pongal.
He effortlessly portrays a variety of personalities in the world of filmmaking. Kamal Haasan possesses the talent to do it all, from making us laugh out loud in funny comedies to making us cry in dreadful tragedies, keeping us on the edge of our seats in exciting thrillers, or stirring our emotions in heartwarming romances. Every scene he is in showcases his brilliance, thus it is not surprising that he has received a significant number of both domestic and international awards.
Picture this: a dynamic performer who can effortlessly shift from comedy to tragedy, from romance to action, captivating you with his sheer brilliance on the silver screen. That's Kamal Haasan – the magical maestro of Indian cinema.
Born on a crisp November day in 1954, in the bustling city of Chennai, Kamal Haasan's journey in the world of entertainment is nothing short of a rollercoaster ride. From his humble beginnings as a child artist to becoming a household name, his passion for acting and storytelling has taken him to great heights.
People are motivated by Kamal Haasan's dedication to using his fame for good. He tries to advance important societal concerns rather than unwinding and making use of his money. We love him even more since he cherishes and cares for his supporters like family.